Next Generation Sequencing Facility
Introduction
The NGS facility is wholly owned and run by the University of Leeds and aims to provide a very flexible sequencing service in which cutting edge methodologies can be rapidly developed and provided as a service to both internal and external users.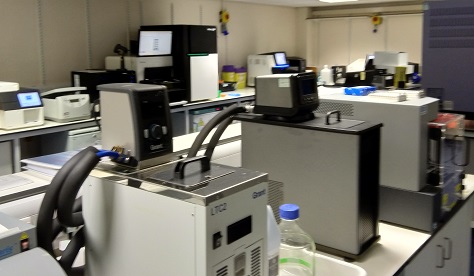 NGS Facility equipment lab
The facility is currently equipped with Illumina NextSeq 2K, NextSeq and two MiSeq sequencers as well as a PacBio Sequel and ONT Minions, and we can discuss which of these may meet your needs for sequencing of DNA or RNA samples. Depending on requirements, we can sequence user-prepared libraries or provide an extensive library preparation service. The facility has a proven track record in the effective use of whole genome, exome, RNA-Seq (polyA selected, rRNA depleted, RIP-Seq, single cell and miRNA), environmental amplicon sequencing (16S/18S etc.) and Chip-Seq methodologies, and we are continuously striving to broaden our skill base.
As our team works closely with members of the NHS diagnostic labs and University research staff, we are able to generate data with a full audit trail to NHS diagnostic standards while simultaneously proving a flexible environment that allows us to rapidly respond to new developments in your research field.
---
Sequencing instruments
NextSeq 2K:

This machine can sequence >400 million (P2 lane) or >1,100 million (P3 lane) of data per lane and is also suitable for a wide range of sequencing application.

NextSeq:

This machine can sequence >400 million inserts per run and is also suitable for a wide range of sequencing application.

MiSeq:

With a run time of as little as 24 hours, this machine can generate up to 5.1 Gb of data when performing a 150-bp paired reads run.

PacBio Sequel:

The PacBio is able to sequence a wide range of templates to generate high quality reads approximately 3,000 bp in length

ONT Minion:

The Minion can routinely generate read sequence tens and even hundreds of kilo-bases in length. While the base calling quality is low, the read length is ideal for the detection of structural variants and de novo assemble
---
Library preparation
The NGS facility has access to all the equipment needed to create libraries for your sequencing projects. For many applications, we can offer to prepare libraries for you. Alternatively, it may be more appropriate for users to generate their own libraries, and in this case, we can discuss arrangements for access to our facilities. Read more
---
Informatics
We have considerable expertise in analysis of large-scale sequence data for both large and small projects, either using standard research techniques or by developing new analysis methodologies in partnership with investigators. We offer a range of bioninformatics pipe lines for example the analysis of exome data, de novo genome and transcriptome assemble of long and/or short read data, 16S/18S environmental sample analysis, ddRAD analysis and identification of differential expressioned genes/transcripts/miRNAs/sRNAs for both model and non-model organisms.
We can also develop specialist analysis packages and pipelines to analysis data from cutting edge applications for which no standard pipe line currently exists. To date we have developed a range of bioinformatics programs that facilitate various tasks across a wide range of medical and biological disciplines. Currently available software applications can be found here.
---
Price list
Our prices are comparable to those to those of other academic research facilities and typically much cheaper than commercial service providers. Read more
---
Contact us
If you have any questions or queries please feel free to contact us here.