Library preparation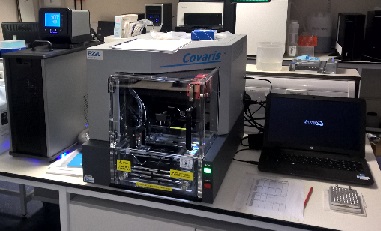 The library preparation laboratory
We are experienced in a wide range of library production techniques and aim to add more methodologies to our repertoire as time progresses, allowing you access to the most up to date methods in your field. If you have any questions or suggestions please contact us.
We are able to offer a range of standard library preparation, but are also willing to help you create your own. Whether you require help troubleshooting, tips on best practice, or just an aliquot of a library preparation kit, we are prepared to help.
Below is a list of commonly used library preparation kits with possible suppliers if you wish to buy your own.
For whole genome sequencing, amplicon sequencing and copy number variation (CNV), we recommend the


NEBNext Ultra DNA Library Prep Kit for Illumina

with


NEBNext Multiplex Oligos for Illumina

(Index Primers Set 1 or Index Primers Set 2).
, for applications such as
For


TruSeq Stranded mRNA

kits with the appropriate indexes from Illumina sequencers, which gives strand directional information on transcripts over ~ 250 bp with a polyA tail.
, we recommend
For


TruSeq Stranded Total RNA Human/Mouse/Rat

or

TruSeq Stranded Total RNA Gold

kits with the required rRNA, mitochondrial and/or chloroplast depletions reagent and indexes from Illumina sequencers. These give data on any transcript over ~280 bp that isn't removed by the depletion reagent.
, we recommend
For


NEBNext Multiplex Small RNA Library Prep kit

or

QIAseq miRNA ibrary Prep kit

for Illumina sequencers (with the required index kit).
, we recommend
For

Agilent SureSelect XT system

. There are two elements to this;


SureSelect XT Reagent kit

and

SureSelect XT Human All Exon V5

.
, we recommend the
Please Note: All these kits contain the basic reagents required for library preparation, but ALL require further components to be purchased separately.
We recommend purchasing NEB kits from Science Warehouse and Illumina Kits directly from Illumina (by creating an online account at www.illumina.com).
If you would prefer to have your libraries made in house for you, there is a fixed charge per library depending on type and number of samples. A price list can be found here. When viewed via the University of Leeds intranet the price will not include VAT, but will include VAT when viewed off campus or via a non-UoL network such as on a mobile phone connected via eduroam.
If the payment comes from a non-University of Leeds account VAT will be charged.
We very happy to discuss your requirements and answers questions and queries (emails here).